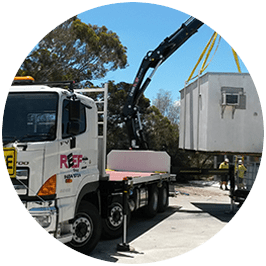 For a quality fleet with drivers that have the experience to lift and transport your heavy machinery while meeting important safety regulations, look no further than Reef Group. Our crane transport trucks possess a plethora of features which allows us to deliver cranes and equipment of all shapes and sizes. If you have been looking for crane transport in Bunbury which offers not only expertise but also quality customer service, you have come to exactly the right place.
A Fleet of Trucks That Can Handle All Types of Cranes
From the very beginning, Reef Group has focused on building a versatile fleet which allows us the ability to deliver machinery of all shapes and sizes. Our fleet of crane transport trucks includes:
2 x 8-wheeler rear mount HIAB's
1 x 288 crane truck with optional pig trailer
1 x 322 crane truck with optional pig trailer
1 x Palfinger 56,000 8-wheeler prime mover with a 12m semi-trailer
Whether you're looking to move just one crane, or you need multiple cranes delivered to your worksite, we have a specialised fleet that can get the job done.
Save Important Dollars With Quality Crane Transport in Bunbury
With our fleet of specialised crane transportation trucks comes the ability to lift your cranes into position over fences, walls and other obstacles. With the quality lifting equipment integrated into our fleet, working with the Reef Group as your transport provider can save you the cost of hiring additional cranes to your delivery site to position your cranes as you need them. Our fleet has the capacity to lift up to 10,000kg to a height of 4m and up to 1,800kg to a height of 18m. When you factor this into the cost saving you can make by not having to hire a positioning crane, choosing us for your crane transport in Bunbury is the most economical decision you can make.
Book Your Crane Transportation With Reef Group Today
As a specialist in crane transport in Bunbury, there is no better partner you can choose to move your valuable equipment. All you need to do is request a quote from us online or contact us on 08 9707 1486 to discuss your crane transportation needs and we will ensure that your delivery reaches you in the timeliest manner. For the best crane transport in Bunbury, contact Reef Group today and experience service from the true professionals.