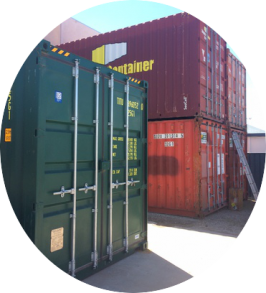 Shipping Container Storage
A shipping container can be the ideal offsite storage solution for any business or private household. If you have excess stock, equipment or even furniture, a shipping container provides the kind of protection you need, without taking up valuable space in your home or on your business premises. Reef Group is proud to offer shipping container storage in Bunbury together with container transport services to allow you the complete package to securely store any unneeded items.
Commercial Container Storage in Bunbury
If your business is receiving large numbers of containers on a regular basis, you may not have the space required to receive everything at the same time. With Reef Group's affordable sea container storage in Bunbury, WA you have the option to hold off on your container deliveries whilst knowing that your gear is being professionally stored in our private yard.
With such a large facility at our disposal, we are able to provide sea container storage in Bunbury for just one container, or many if that's what you need. Our team are happy to discuss rates with you for short storage periods or to create a deal for storing your containers over a longer term. Whatever your requirements are, we are ready to provide you with safe and secure container storage in Bunbury that may well be the solution to all of your storage issues.
Private Container Storage in Bunbury, WA
Whether you are moving homes, changing countries or undergoing a complete renovation of your home, you can take care of your furnishing and personal effects with our container storage in Bunbury. There is no longer any need for you to agonise over garage space, or to take up valuable space in the homes of friends and relatives if you need to store household items. Reef Group's shipping container storage in Bunbury offers the perfect solution for you.
We offer short term and long term storge rates so no matter how long you need to utilise our storage services, we can accommodate. We take shipping containers in all sizes in our storage facility, so no matter whether you have a 6ft, 10ft, or 40ft container, we will always have space available for you. All you need to do is contact our friendly team for a quote on the affordable rates we offer for container storage in Bunbury, WA and move ahead with the most convenient option.
Container Transport Services the Offer the Complete Package
No matter whether you are engaging our container storage services for your business on a rotating basis or you need a one-off storage solution for your home, Reef Group offers a shipping container transport service that will make the process as smooth as possible. We can deliver shipping containers to your home to be packed, collect them from sea ports and return them to your home or business easily with a fleet of well maintained container trucks that have all the bells and whistles.
Our fleet of trucks which are capable of handling shipping containers from 6ft to 40ft includes:
Rigid Tilt Tray Slide Trucks
Semi Side Loaders
Low Loaders
Rigid and Semi Crane Trucks
Semi Tilt Slide
Flat and Drop Decks
If you are unsure of what kind of vehicle you will require to relocate your shipping container to our storage facility, simply contact our friendly team for their expert advice. As one of WA's leading shipping container transport companies, we are more than happy to provide you with friendly and professional advice regarding transport and shipping container storage in Bunbury.
Choose WA's Best Container Storage in Bunbury
Not only do we have the private and secure facility to store a large number of containers, we also have a team that boasts years of knowledge and expertise in sea container storage in Bunbury too. Feel confident that you have chosen the professionals. With over 15 years of solid operations supporting all of your transport and storage requirements, you know that you will be working with a partner you can trust.
Visit our container storage in Bunbury, request a quote online or feel free to call us on 08 9707 1486 to answer any questions you may have. Let us help you to solve your storage issues with our shipping container storage in Bunbury.