Established in 2002, Reef Group has been providing transport and freight services throughout Australia for more than TWENTY YEARS.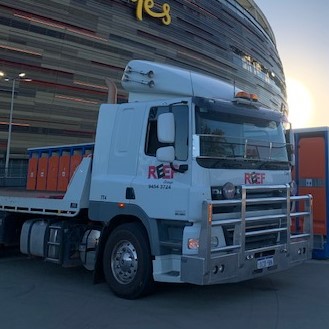 Initially trading as Tilt Trays Downunder Pty Ltd, Reef Group's core values of safety, reliability and professionalism have seen the company grow from running a single truck to becoming an Australia-wide operation.
Our experienced team, with a combined 40 years of industry knowledge, can assist with a variety of transport requirements including oversize, metropolitan, country, rail and interstate deliveries.
Reef Group are committed to safety and offer the safest method of 20 foot sea container transport via tilt tray with our container loading and offloading system (CLOS) receiving a Worksafe Award in 2005 followed by WA Innovator Of The Year Finalist in 2015. We are WA Heavy Vehicle Accredited (Main Roads WA) and we ensure all of our driver's qualifications and training (Licenses, Fatigue Management, Medicals, EWP, White Card, First Aid, MSIC etc) are kept up to date.
We realise that as your business flourishes, your transport needs will grow and Reef Group will need to increase the carrying capacity accordingly.  We will monitor the needs for your company so that no lag in provision of service against volume of work occurs, both by acquisition of new plant and use of trusted sub-contractors as/and if required.
ROBERT O'KEEFE
Business Owner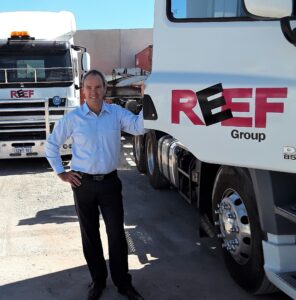 Robert O'Keefe is the founder and owner of the business Reef Group Pty Ltd. His prior industry knowledge was gained through heavy vehicle body building, mechanical fitting, heavy vehicle management and maintenance planning.
Robert's entrepreneurial spirit saw him further invent the CLOS – Container Loading and Offloading System. The Reef CLOS patented system is unique to the industry and recognised with the Worksafe Award for Safety in the Workplace.
Under Robert's 20+ years leadership, Reef Group has experienced strong growth, succeeded in advancements with technology, provided excellent customer service, generated employment and had a positive effect on the local economy. Robert has ensured Reef Group fosters a culture of safety and well-being within the Australian transport sector.
Both West Australian and National Awards have been achieved for REEF Group in recognition of business successes.
RONNIE VORDERHAKE
South West Manager
STUART BARRY
Fleet Maintenance Manager
Stuart started with REEF Group in 2019 as a business support manager. He has brought with him 20+ years of mechanical and management knowledge, with previous roles managing large scale access and hire companies. Stuart's primary roles within REEF Group will be fleet maintenance manager and accreditation as well as safety and training. 
MARK O'CONNOR
Fleet and Depot Assistant
DANIELLE PASQUALE
Administration Officer
DENIS WALLER
Account Officer
Denise takes care of all day to day accounting, client contracts and document control.
SHYLOH BROMLEY
Customer Service Team
BRODEE COOKE
Customer Service Team
KERRY HALL
Customer Service Team
MARC TRAUSELD
Customer Service Team
QUENTIN VAN DER MESCHT
Customer Service Team
PAULA VAN DER MESCHT
Customer Service Team