Established in 2002, Reef Group has been providing transport and freight services throughout Australia for more than FIFTEEN YEARS.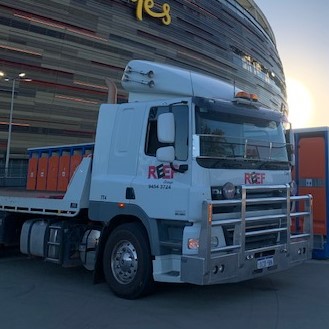 Initially trading as Tilt Trays Downunder Pty Ltd, Reef Group's core values of safety, reliability and professionalism have seen the company grow from running a single truck to becoming an Australia-wide operation.
Our experienced team, with a combined 40 years of industry knowledge, can assist with a variety of transport requirements including oversize, metropolitan, country, rail and interstate deliveries.
Reef Group are committed to safety and offer the safest method of 20 foot sea container transport via tilt tray with our container loading and offloading system (CLOS) receiving a Worksafe Award in 2005 followed by WA Innovator Of The Year Finalist in 2015. We are WA Heavy Vehicle Accredited (Main Roads WA) and we ensure all of our driver's qualifications and training (Licenses, Fatigue Management, Medicals, EWP, White Card, First Aid, MSIC etc) are kept up to date.
We realise that as your business flourishes, your transport needs will grow and Reef Group will need to increase the carrying capacity accordingly.  We will monitor the needs for your company so that no lag in provision of service against volume of work occurs, both by acquisition of new plant and use of trusted sub-contractors as/and if required.
ROBERT O'KEEFE
Director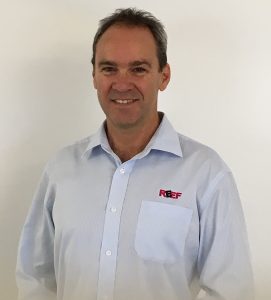 Robert entered the transport industry in 2002. His industry knowledge was gained through heavy vehicle body building, mechanical fitting, and heavy vehicle management and maintenance planning before founding Reef Group.
Robert has created two companies in Perth, Western Australia; one being Reef Group and the other that caters for his Intellectual Property. His IP Company develops new technology and manages the invention for loading and unloading shipping containers from tilt slide trucks. Robert is advocating with the Australian regulators to improve safety in the transportation sector.
BRADLEY SKUSE
Manager & Transport Co-Ordinator
Bradley has been the manager at Reef Group since 2012. He has 15 years industry knowledge working with shipping containers, tilt trays and access equipment. Once having his own tilt tray transport business Bradley is very passionate about safety in the workplace and regular driver training. You may often see Bradley out in the trucks doing deliveries or re-assessing drivers.
DENISE WALLER
Administration & Accounts
Denise takes care of all day to day accounting, client contracts and document control.
STUART BARRIE
Business Support Manager
Stuart started with REEF Group in 2019 as a business support manager. He has brought with him 20+ years of mechanical and management knowledge, with previous roles managing large scale access and hire companies. Stuart's primary roles within REEF Group will be fleet maintenance and accreditation as well as safety and training. 
TAHLIA HITCHCOCK
Operations Manager
Tahlia began working at Reef Group in 2015 as transport co-ordinator bringing with her 7 years of knowledge and experience in the access equipment and hire industry and customer service. Now combined with her knowledge of the container industry including wharf and intermodal deliveries, Tahlia is the primary contact for all your transport requirements.
COURTNEY LEE
Transport Co-ordinator
Courtney started with Reef Group in 2019. Courtney has 5 years of experience in transporting containers for residential properties and interstate transport via Rail.
CHRIS STRATFORD
Transport Co-ordinator
Chris is the newest member to the Reef Group team starting in May 2020 bringing with him 9 years of experience in the access equipment and hire industry.