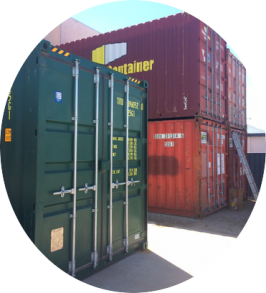 Cost Effective Shipping Container Storage Perth & Bunbury Western Australia
A shipping container is the ideal storage solution for many businesses and individuals but the main problem most people face is finding a shipping container storage facility for the container that has the capacity to both transport and accommodate them. If you are looking for  secure services and accessible storage for one or more shipping containers, Reef Group can be of assistance. We offer sea container storage in Perth and Bunbury Western Australia for both short term and long-term periods at our secure yard. Our Perth storage facility provides you with easy access to store during business hours and for your peace of mind, a comprehensive security detail at all other times.
As part of our service, we can also safely and securely transport your sea container from A to B on request. If you'd like to find out more about our sea container storage capabilities, please don't hesitate to give us a call or schedule a visit to the Perth facility. 
Why People use our
Perth Container Storage
Facility
The reasons why people choose Reef Group for their shipping and sea container storage requirements are wide and varied but include:
Storing household goods prior to moving to a new house

To free up space in business, industrial or commercial premises

To store products for events, tradeshows and exhibitions that may only be used periodically

To store imported goods until they are ready to be distributed though business sales.

To store goods prior to sale or auction following a house clearance.

Removing clutter and freeing up space in warehouses.
The above list contains just a few examples of why individuals and businesses use our cost effective and easy to access shipping container storage in Perth WA. If you have a need for storage services but would like some further information before you commit, please don't hesitate to get in touch with one of our friendly team who will be happy to help and provide recommendations on request. 
Container Storage Perth Transportation Nationwide
Of course, an integral part of container storage is getting the storage containers moved from one place to another without damage or delay, this is where our dedicated container transport shipping service comes in. 
We are committed to providing all our customers with the safest and most efficient service for loading, transporting and unloading storage containers and with our modern fleet of vehicles and fully trained operatives you can rest assured the contents of your sorage containers will arrive at the Perth storage yard in the same condition as when they left.
Dependent on how many containers that need transporting and the size of the container(s), Reef Group currently has the following fleet for shipping:
Rigid Tilt Tray Slide Trucks

Semi Side Loaders

Low Loaders

Rigid and Semi Crane Trucks

Semi Tilt Slide

Flat and Drop Decks
If you have any questions regarding the most suitable truck for your container storage and transportation requirements, please don't hesitate to get in touch about shipping.
Contact Us Now For Your Container Needs
If you have any questions about our capacity to accommodate your Perth WA sea container storage needs, please contact us at your convenience through email or phone. Due to our extensive experience within the sector of storage containers we are usually able to answer any questions about our services promptly.
Contact us now via email or phone for an obligation free quotation and find out for yourself why Reef Group are fast becoming the go-to container storage company for residents and businesses of Perth and the surrounding areas.