REEF GROUP'S FLEET IS MAINTAINED IN ACCORDANCE WITH THE MAIN ROADS WA HEAVY VEHICLE ACCREDITATION SCHEME AND IS EQUIPPED TO HANDLE A VARIETY OF LOADS SAFELY AND EFFICIENTLY.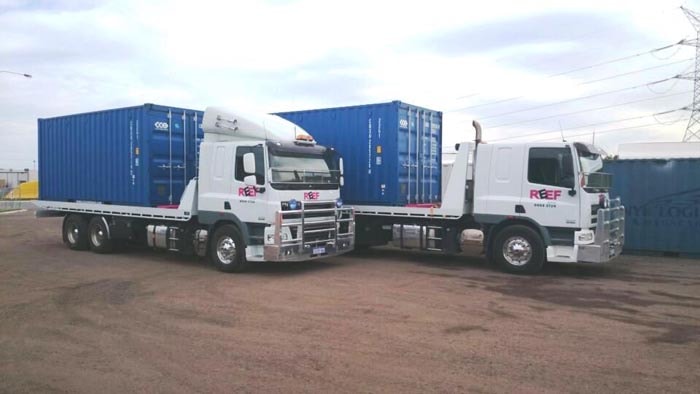 ---
Tilt Tray/Slide Trucks
Our tilt tray slide trucks are fitted with a Container Loading and Offloading System (CLOS) which received a Work Safe Award in 2005 for its ability to load and unload containers in the safest manner possible. Our tilt tray slides are capable of moving:
The tilt tray slide loads & unloads from the end of the truck and requires 15m of space in front of the equipment being loaded/unloaded –
See our video of a 20ft sea container being unloaded in real time.
Learn more about our tilt tray service Perth here. Or get request a quote today.
---
Side Loaders
Side loaders can carry 20ft and 40ft shipping containers and containerised generators up to 30 tonne. The truck is equipped with crane arms that load and unload the container to the right hand (driver's) side so it is important to know which way you want the doors loaded on the truck prior to delivery. Our side loaders are also capable of double stacking containers on site.
The side loader requires a clearance space of 6m wide, 16m long and 4.5m high and must be able to access the container from the driver's side.
Find out more about our Side Loader transport vehicles here.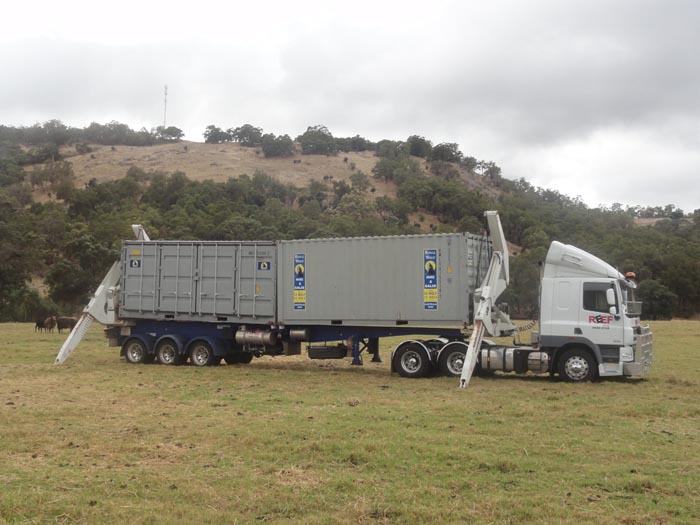 ---
Low Loaders / Drop Decks
Our tri-axle low loader is suitable for carrying your access equipment and machinery up to 24 tonne. With the top deck at 4m long and the bottom deck at 9.5m long we can carry a range of loads. We are also equipped with container  twist locks & stanchions in order to carry 20ft and 40ft sea containers.
More information on our Low Loaders and Drop Decks services in Perth here.
---
Hiab Cranes 
Our 8 wheeler rear mount HIAB 322 crane truck has an optional pig trailer suitable for delivering multiple loads. Whether it's lifting street signs, power poles, dongas, sea containers, generators or more we can assist with your transport requirements.
Our state of the art remote operated crane truck is able to deliver to second and third floor locations, lift over fences and obstacles and save you money as there is no need to hire an additional crane on site.
Our qualified crane operator is licensed to operate any mobile slewing crane of up to 100 tonnes and holds his forklift and EWP tickets.
Get more information about our Hiab Crane Trucks Perth here.