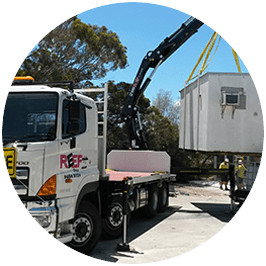 Crane Transport
Is your equipment in a hard to reach place? Do you require a crane on site to load or unload your materials for transport?
Reef Group's fleet consists of a 2 x 8 wheeler rear mount HIAB's a 288 and 322 crane truck with optional pig trailer suitable for delivering multiple loads. Whether it's lifting street signs, power poles, dongas, sea containers, generators or more we can assist with your transport requirements.
We now also have a Palfinger 56000, 8 wheeler prime mover crane truck, which tow's a 12m semi-trailer on air-bag suspension. With an 18m reach, this unit is set up for delivering your 12-meter dongas and containers, This unit is also set up for your sensitive loads such as gen-set and chillers.
Our state of the art remote-operated crane trucks are able to deliver to second and third-floor locations, lift over fences and obstacles and save you money as there is no need to hire an additional crane on site.
Our qualified crane operators is licensed to operate any mobile slewing crane of up to 100 tonnes and holds his forklift and EWP tickets.
Lifting capacities of up to 10,000kg at 4m
Lifting capacity of up to 1,800kg at 18m
Unsure which truck you need? Download our Transport Guide for vehicle load capacities.