Reliable Tilt Tray Transportation in Perth
If you are in need of a tilt tray in Perth so that you can transport a container or oversized equipment, Reef Group is ready to assist. Our team has more than 40 combined years of industry knowledge and experience, and we're experts in handling cargo with care.
As a result, we can arrange transport for a wide range of oversized equipment and containers. Our tilt trays in Perth are equipped to handle loads that are up to 3.5 metres wide, and they can transport them across WA without an escort.
Check out the video below to see one of our Tilt Trays in action.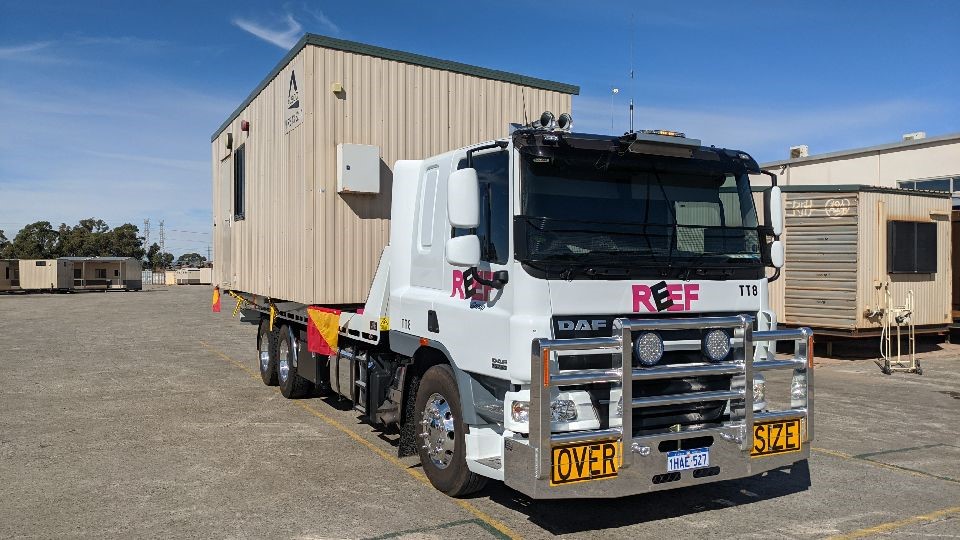 Highly Affordable Rates & Incredible Customer Service
Our tilt tray service is highly affordable, and rates begin at only $95 per hour. We take our spotless customer service record seriously, and we'll respond to your query as promptly as possible. So whether you need a quote for an upcoming delivery or have questions regarding the type of transport you require for your oversized equipment, please don't hesitate to get in touch.
Our Tilt Trays, Size, and Specifications
The tilt tray slides employed by Reef Group are capable of transporting a wide range of cargo and equipment weighing up to 10 tonnes for Rigid Tilt and 24 tonnes for the Semi Tilt. We regularly load and transport the following items:
Rigid Tilt Tray - Equipment and machinery with a combined weight of up to 10 tonnes
Semi Tilt Tray - Equipment and machinery with a combined weight of up to 24 tonnes
Oversized equipment that is otherwise difficult to load and transport
Shipping containers (6 foot, 8 foot, 10 foot, 20 foot and 40 foot)
We Transport to The Whole of Australia
We can arrange transport and delivery of containers and oversized equipment to just about any location in Australia. We regularly operate within WA, delivering to sites across the Perth metropolitan area as well as mine sites and other regional destinations, such as the following:
Port Hedland

Manjimup

Geraldton

Esperance

Busselton

Bunbury

Albany
If you would like to arrange interstate transport, we can assist in a couple of different ways. One is to have your cargo forwarded to your onward destination by rail. Likewise, Reef Group also has MSIC access. That means we can deliver your container or equipment to Fremantle Wharf and Ports, so that it can be shipped to you by sea.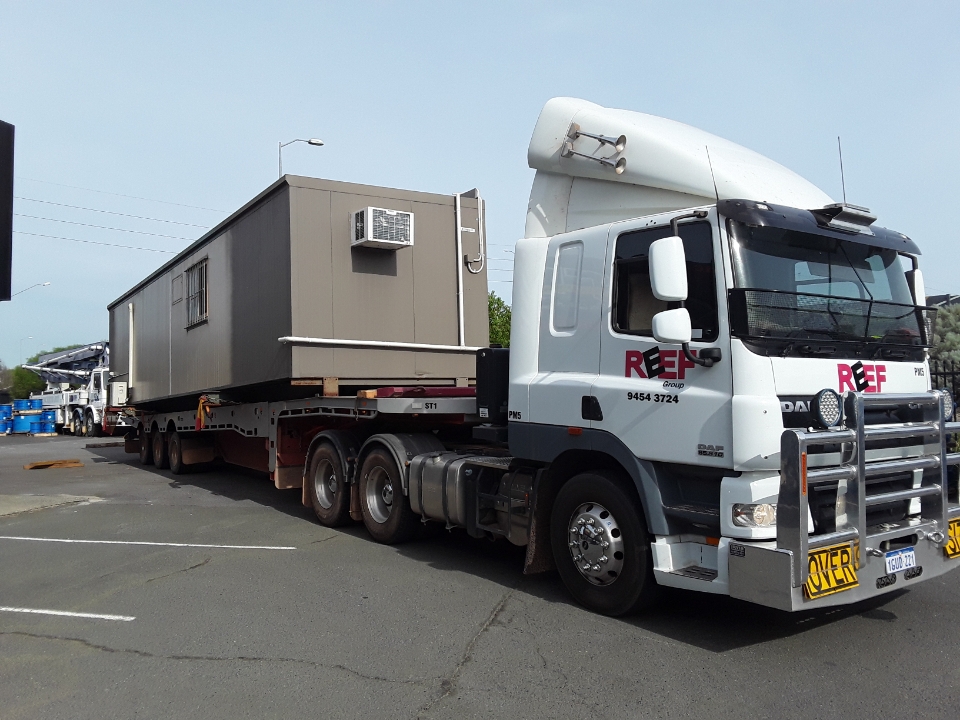 Safe and Dependable Tilt Tray Transport in Perth
Each of our tilt tray slide trucks is outfitted with our container loading and offloading system (CLOS). This system has been recognised for the remarkably safe way in which it loads and unloads containers (WorkSafe Award, 2005). More recently, our CLOS system was chosen as a 'WA Innovator of the Year' finalist in 2015.
Here's how a container is loaded via tilt tray. To begin, the tray is tilted down to the end of the container at the minimum possible angle (no more than 12 degrees). Once the container is situated on the tray, the truck is winched back. This winching process continues until the container is fully loaded.
This process is essentially reversed in order to unload the tray. First, the minimum tilt is again achieved, and the unloading process begins. The truck is then slowly driven away, pulling the tray out from under the container. As such, the container is safely and slowly ejected from the platform.
By following this process, we ensure that your cargo is treated with the utmost care from the loading phase all the way through to the unloading process. Please be advised that the loading and unloading process requires a minimum of 15 metres of space to the fore of the container or machinery.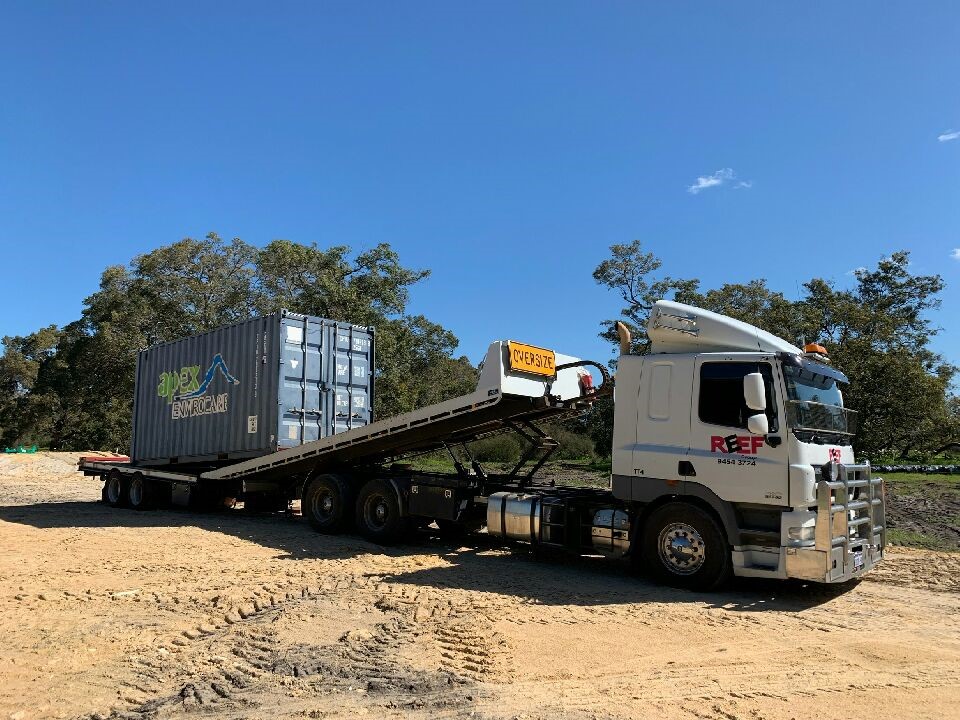 On-Time Tilt Tray Transport in WA
Our company is WA Heavy Vehicle Accredited (Main Roads WA). So if you require a tilt tray in WA, we're the team to turn to. Every tilt tray truck that we use meets the highest safety standards and is routinely checked to ensure that it's fit for duty. We'll never send your container or equipment out on the road unless we're absolutely sure that the truck is ready for the challenge.
Likewise, we insist on only working with highly professional drivers. All hold a white card along with a license to perform high-rise work. The driver in charge of your shipment will see to it that your cargo reaches its destination safely and according to schedule.
Furthermore, every truck in our fleet carries all the equipment needed to provide live tracking and electronic documentation. This means that – at any moment – we can confirm the status of your equipment, determine where it is and provide you with accurate lead times for delivery.
If you would like to learn more about our services, feel free to contact us through our website or by calling 08 9454 3724.