As one of the leading manufacturers of load handling equipment, HIAB (Hydrauliska Industri AB) makes several loading cranes that are fit for almost any loading and unloading task. Their loading cranes are some of the best that the industry has to offer and today we'll be taking a look at these machines to help you decide which one best fits your applications.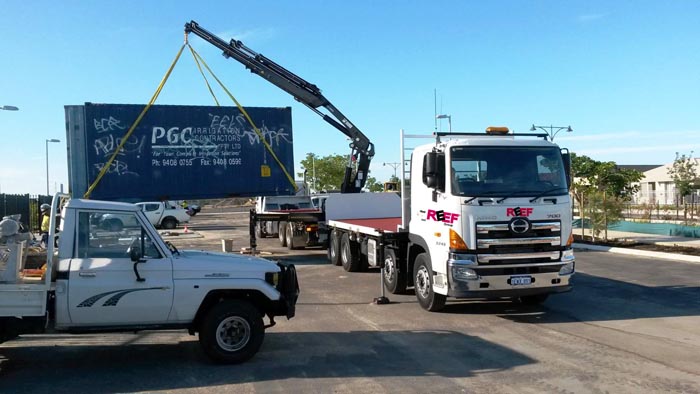 What is a loader crane?
A loader crane (also known as a knuckle-boom crane) is an articulated arm that's electronically powered and is mounted to a trailer or truck. The function of the loader crane is to load/unload cargo that is on the vehicle with the utmost efficiency. Loader cranes have jointed sections that can fold easily when not in use thanks to its telescopic design. Often times the crane is automated up to a certain extent and can stow itself without being operated.
To get a clear view of the load, the crane operator must manoeuvre around the vehicle. Most modern loader cranes are equipped with a portable cabled control system to aid the crane's hydraulic control levers. These types of cranes are commonly referred to as a "Hiab", mainly due to the fact that the company invented the loader crane and was the first one to introduce it to the UK market. A loader crane that's mounted onto a chassis with wheels is called a roll loader crane. This crane can ride on a trailer and because it moves along with the trailer, it's usually a light crane to allow more goods to be transported.
When designing a crane, there are three major considerations that manufacturers consider. First is the load capacity of the crane. The crane should be able to handle lifting loads that it's rated for and secondly, the crane must not topple when the load is being lifted. The last part is the structural integrity of the crane. Under no circumstances should the crane rupture while loading and unloading heavy equipment and machinery.
You can check out this article for more on the history of Hiab's.
Choosing the right HIAB loader crane for you
HIAB's loader cranes can help transform your truck into a versatile vehicle and allow you to take on value-added tasks. These machines enable you to load and unload even the heaviest of objects without needing too much equipment. As a result, your business operations speed up and other tasks like lifting, manipulating, and manoeuvring are facilitated.
The basic ranges of HIAB's loader cranes are an example of what you can do with your truck. Booms, capacities, tools, and control systems can be merged together to form a loader crane that's flexible in nature. Let's take a look at the different types of loader cranes that HIAB has to offer. 
HIAB light-capacity loader cranes(<12 tm)
HIAB's light-capacity loader cranes can handle loads of up to 12 tonne-meters and can be fitted onto small and medium-sized trucks. These machines are versatile enough to serve as your daily driver in terms of lifting and unloading heavy equipment. Despite being small and lightweight, HIAB's light-capacity loader cranes are sturdy enough to handle demanding tasks without any issues. Cranes in this range include stiff-boom cranes from the T-series and small knuckle-boom cranes found on the X-series. These machines can be used to lift a wide variety of objects like cable spools and tires. The cranes can also hold the objects steadily as you work with them.
HIAB medium-capacity loader cranes (12-30 tm)
HIAB's medium-capacity loader cranes are the workhorse of the bunch and are used primarily for general loading and unloading jobs. These cranes can accommodate loads of up to 30 of crane setups for optimal crane configuration, thus helping you find the perfect balance between crane and payload space.
Cranes in HIAB's medium-capacity range are specialised cranes that come with a longer first extension (L-series cranes) or cranes that can fold up behind the cabin while the tool is attached (Z-series cranes). All of these cranes are built for general purpose duties such as sand, dirt, and gravel transportation. They can also be used to perform more complicated jobs like positioning pipes or lifting medium-sized sea containers.
HIAB heavy-capacity loader cranes (>30 tm)
The heavy-capacity loader cranes in HIAB's arsenal are the big boys of load handling. They have a capacity of over 30 tonne-meters and provide the most flexibility and performance out of all their loader cranes. It boasts a combination of finesse and power to tackle the most demanding lifts, making them the perfect choice if cranes are the primary focus of your operations.
Cranes in this category are short-boom EP cranes that are geared towards heavy lifting and transportation. Long-boom versions are available and are used for complex manoeuvring tasks such as construction work or rescue and salvage operations.
Why choose HIAB loader cranes
HIAB's knuckle-boom cranes provide unmatched versatility over traditional telescopic cranes or stiff-boom cranes. Thanks to their precision controls and increased payload room, HIAB loader cranes are able to perform loading and unloading tasks with better precision and efficiency. Their long reach allows the cranes to work around tight obstacles on the job site, enabling you to tackle complicated tasks with ease — just park the truck and unload to several locations around the job site.
HIAB's loader cranes are a cost-effective solution for a number of load handling applications. Whether you're working on a construction site or in road-building, there's always a HIAB loader crane that suits your needs perfectly.