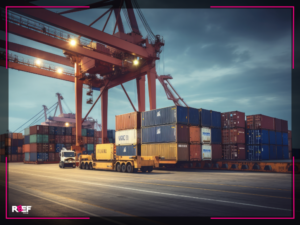 Items of all shapes and sizes are shipped around the world every day. Via road, rail or sea, from small consumer goods to gigantic earth-moving tools, it is down to a sophisticated network of specialist transport companies to ensure the items arrive at their destinations on time and in one piece. 
Transport companies face a range of challenges when moving oversized freight, such as government regulations and choosing the right mode of transport for the job. With efficient planning, up-to-date technology and communication, the company's teams of specialised experts are able to overcome the challenges that they face.
So, whether you are relocating to a new country, a business owner or a specialist contractor, read on to find out how transport companies overcome the challenges involved in shipping oversized containers.
What is oversized freight?
If the item or goods exceed the standard 40ft long shipping container, companies will consider it oversized. When considering road transport, an oversize load is a load that exceeds 2.5m wide, 4.3m high or in excess of the vehicle's total mass limits. Items considered oversized could include:
Mining or farming machinery

Light aircraft or helicopters

Waterborne vessels such as boats and yachts

Large vehicles such as buses or motorhomes

Dwellings

Bulky furniture or large house removals
Transport options
Sea freight- standard shipping containers are either 20 or 40ft long, 8ft wide and 8.5ft high, and their maximum weight is capped at 30,400KG

Air freight-

any item that exceeds 100 KG is classed as oversized when transported by air.

Rail freight-

The weight

limit is around 30,400 KG for a 40ft container, while the limit for a 20ft container is 24,000 KG. The standard container size is 40 feet long, 8 feet wide, and 8.5 high

.

Road freight– Road options can include tilt tray slide trucks, crane trucks, low loaders and side loaders. It is important to check with local road agencies for bridge weight limits and potential restrictions, but weight and size limits on a selection of trucks can be provided by your transport partner.
Plan your route
Planning your route is essential. If your cargo is travelling by road it is important to check the things as detailed above. Other potential obstacles include tight turns or road closures, which could leave your oversize load blocking the road for other users. Sometimes you may have to travel at night to avoid traffic and perhaps even avoid motorways altogether. Factoring transport providers, councils and regulatory agencies into your risk management plan well in advance of shipment will ensure that your cargo reaches its destination smoothly. Transport companies will use their contacts and experience to make sure that your road, rail or sea cargo arrives at its destination as arranged.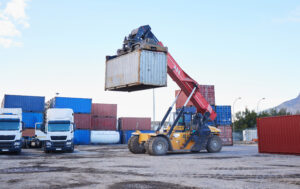 Make sure you have the right equipment for the job
Shipping oversized cargo requires specialised equipment that can handle excessive weights and larger dimensions. Sometimes the right tools for the job can be hard to find and even harder to operate. Make sure that the transport provider you work with is equipped with a range of trucks able to carry oversized cargo such as tilt tray slide loaders, crane trucks, low loaders and slide loaders.
Now, let's say you have the right truck or you have the right tool, but you haven't considered the terrain you are working on. Transport companies will also factor in the land surrounding your job to ensure it is not unstable, from pick-up to delivery. Their employees are seasoned professionals who can strap and secure your goods securely for transit as efficient movement of oversized cargo requires skill and experience.
When shipping overseas, it is important to ensure that the correct equipment to unload your cargo is operational on the other side. Each job is unique, however, and finding the right logistics partner to guide you through the logistics of weights, dimensions and destination country will ensure that your cargo arrives complete and on time. Your transport company will have a contingency plan in place in preparation for all eventualities.
Government regulations
Different states and countries will have different rules and regulations regarding moving oversized items between their borders. Don't get caught out! Making sure that you have the right permits and escort requirements can save days or even weeks of delays! Transport companies overcome this barrier by maintaining good relationships with port authorities and border controls ensuring that oversized cargos make it in and out of ports with minimal fuss.
Communication and coordination
Careful coordination and efficient communication are vital tools in the transport company's kit. This reduces the risk of miscommunication or misunderstandings that can result in huge delays. Modern transport companies use a range of technologies to ensure that the job they are tasked with completing is done without a fuss. Systems used to maintain communication include:
GPS tracking systems

Real-time shipment monitoring

Online collaborative platforms
These allow transport companies to communicate and share information between every party involved in the move, from origin to destination. Keeping everyone connected, from customs staff to ship captains to drivers, ensures the whole operation is coordinated and runs smoothly.

Just in case
Nothing comes without challenges, and shipping oversized cargo is no exception. Transport companies insure their vehicles against any eventuality, and their staff are fully trained to operate specialised machinery, which helps the company deal with the unlikely challenges of mishaps or accidents. With each job being so specialised, every precaution must be taken.
So, how do transit companies handle the challenges of shipping oversized containers?
When it comes to shipping oversized containers, there are a heap of challenges that transport companies must overcome: 
Planning a route that is safe and efficient in order to eliminate delays. This can be achieved by speaking with transport providers, councils and regulatory agencies. The last thing you want is your oversized cargo jackknifing on a tight corner or being held up at a port.

Transport companies will make sure that you are equipped with the right specialised equipment, such as cranes and forklifts and people with the expertise to operate them. Staff are also highly skilled and qualified in securing and unloading oversized cargo.
Making sure that government regulations such as permits and escort requirements are arranged and secured well in advance of shipment.
Transport companies will use the latest technology to maintain communication with all parties throughout the transit of oversized goods. From loading to unloading, GPS trackers, real-time monitoring systems and online collaborative platforms will be used to record the status of the goods.
Unsurprisingly, shipping oversized cargo presents a unique set of challenges, but there are seasoned companies that specialise in helping you every step of the way. Careful route planning, the right equipment and effective collaboration can only result in success. Regardless of the size of freight you wish to move or the destination, having a transport company in Perth who are experts in the field can make the whole process much easier.