Australian road trains are a fascinating configuration. They are the mammoth, big rig trucks and trailers which transport freight in the wild Australian Outback. These trucks are the real bad boys of trucks!
AN INTERVIEW WITH A ROAD TRAIN TRUCK DRIVER
The following is an interview with a trucker within the Australian Outback telling me about these monster road trains.
Thanks so very much to 'Craig Johnson', from Gippsland, Australia for sharing his first-hand experiences about some of the dangerous adventures of the Aussie road train.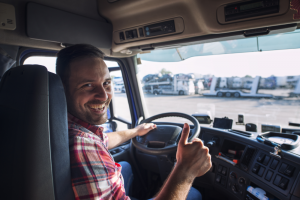 WHAT IS AN AUSTRALIAN ROAD TRAIN?
Road trains are well known as the world's longest trucks, accustomed to heavy hauling trucking.
Since the Outback is very barren, most freight travels by road and the Australian road trains are designed as the best way to transfer freight.
These trains are huge long trucks, which contain multiple trailers.
They are hooked up by what is known as converter dollies.
With many forms of combinations, the most common is the three or two trailer conjunction.
THIS TYPE OF SERVICE IS NOT PERMITTED IN NORTH AMERICA, DUE TO THE LENGTH AND WEIGHT. WHY ARE ROAD TRAINS USED IN AUSTRALIA?
On a normal road, special permits are required to run a train. Outback roads are usually one-lane roads and there are no freeways or superhighways here.
The longest road train can reach a maximum of 53 meters in length and up to 80-120 tonnes in weight.
Very remote areas completely depend on these loads of goods, if it was not for trains, it could be months before the road train could get to them. A normal semi-trailer load would not be enough.
WHAT ARE THE DANGERS OF TRAVELING BY TRUCK THROUGH AUSTRALIA'S OUTBACK?
The Outback is a very vast landmass.
A lot of tourists may look at Australia and think it does not look very big, they can then get into all sorts of trouble out there, as they are not prepared.
If ever you come to the Outback and plan a road trip, make sure to ask the locals for advice.
The Outback is a beautiful place but it can turn deadly.
Rugged Roads – There are many hazards of driving a huge truck on roads that are usually just a track. While there have been improvements in roads and the design of modern road trains, the Outback can always present problems. 
If a truck makes just one slip off the edge of the road, especially when loaded with moving livestock it can spell big trouble.
Weather – drivers must be aware of any weather patterns on their journey. The weather can change very quickly and when it does, with rain, the roads turn to mud.
A trucker can get caught for weeks out there.
This is another reason for the road train. The rail would have no hope out there at all.
Terrain– Jump-ups are also a big concern. This is where a truck has to come down onto a river or creek bed crossing and needs good traction to get up the other side.
You can always unhook and take one trailer at once, but this is timely.
Bush Fires – Another big hazard in Australia. These bush fires can and have cost many lives.
With a lot of wheels rolling underneath the truck on rugged terrain,  the Australian truckers need to get used to changing the tires.
Animals – The animals here roam freely and graze on the sides of roads.
There is always at least one that will stand in front of the truck.
If you try to stop a road train quickly… It will be a slow process.
WHAT PRODUCTS DO AUSTRALIAN ROAD TRAINS HAUL?
Road trains haul everything.
They also haul tons of product out of the big mines in their 'side tippers'. The mighty road trains haul everything that comes to mind!
WHAT HAPPENS IF A RIG BREAKS DOWN IN A DESERTED AREA?
Nowadays, all the big road trains have fantastic communication setups in their trucks.
If a truck breaks down, he can radio ahead for help. It is so important that the trucker can let the receiver know when he is departing a trip with an expected time of arrival.
In the old days when there was no communication with the truck, the trucker pretty much had to become a 'bush mechanic' and get themselves out of trouble!
TRUE ICONS OF THE OUTBACK
To sum up, the Australian road trains are an iconic part of the Outback, in this beautiful land of ours.
This system and its Australian drivers have improved over the past few years.  
However, it is a dangerous lifestyle.
You can certainly bet at any given time,  there will be a road train driver out there, trying their guts out, fighting to get the freight through.
Yet, as a road train driver, I can say, 'By crikey, it's great fun!'
F.A.Q.'S
How is trucking in Australia different from in North America?
Being an Australian truck driver, driving a Road Train truck, is not an easy task. These tractor-trailer units made up of several trailers, drawn by a heavy-duty big rig. They transport through different rugged terrain, with no services or repair shops. Many drivers are expected to get their trucks up and running should they end up in an unfortunate situation. The Australian Outback hazards are fires, animals, intense heat and being stranded if broken down.