The HIAB is a vehicle designed to lift and transport objects. Ports, factories, warehouses, and construction sites frequently employ HIAB trucks to load and unload containers and other industrial commodities. These vehicles combine a truck with a hydraulic crane to facilitate the loading and unloading of freight. If you have always wondered what the real use of HIAB trucks are, you've come to the right place!
In this article, we will be going over the purpose of HIAB trucks so you can determine whether or not you need one on your next construction project.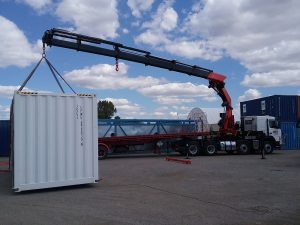 What does HIAB mean?
Despite multiple misconceptions, "HIAB" is a brand name, not a generic product category. Although legally classified as crane trucks, many people refer to them as HIABs after the first business built them. HIAB is an abbreviation of the Swedish company Hydrauliska Industri AB, which began making hydraulic cranes in the mid-1940s. In haulage, the term Hiab has become synonymous with any lorry-mounted crane or lorry loader, similar to how the term Hoover is often used to refer to any vacuum cleaner brand.
What is the HIAB truck used for?
The HIAB is a truck initially designed to move and hoist cargo. Containers and other industrial cargo are commonly loaded and unloaded using HIABs at ports, industries, warehouses, and construction sites. These vehicles are a combination of a truck and a hydraulic crane to facilitate the loading and unloading of cargo. The crane's hydraulics is powered by the truck's engine, enabling the smooth transfer of cargo from the vehicle to the drop-off location without needing to hire an external crane. This significantly increases the efficiency of moving large industrial cargo. The crane's flexible arm may reach into normally inaccessible regions to collect and deliver freight to any location, even those with restricted access.
These robust vehicles are incredibly adaptable. After working in the haulage industry for any length of time, the diversity of the task becomes readily apparent. No two cargoes are identical. Almost everything was formerly delivered using a truck, lorry, or HIAB vehicle, incredibly huge or heavy goods or machinery, manufacturing and industrial resources, and even the most essential items, such as food and supplies. HIABs are utilised primarily for the transportation of abnormally large loads, which frequently belong to the construction, agriculture, landscaping, infrastructure, and energy industries.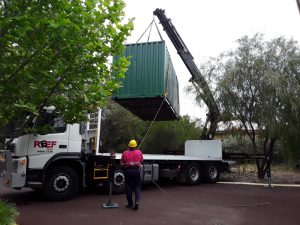 What are the benefits of using a HIAB truck?
You will require additional staff, labourers, and expensive equipment to install and disassemble a crane. It is unnecessary to erect a truck-mounted crane whenever it must be moved to a new position. This can reduce the cost of constructing the foundation, transporting the crane to the construction site, and disassembling it for relocation. Using a truck-mounted crane, however, eliminates these additional costs. Using crane trucks for sale is an excellent option if you have a limited budget. Buying a used crane truck in good condition will help you save even more money since used crane trucks have the same lifting capacity as new crane trucks at a fraction of the cost.
In addition, HIABs can quickly transport and distribute cargo and load and unload without needing a mobile crane. These vehicles may move products from one location to another securely. Several industries, including construction, agriculture, transportation, and energy, can benefit from them. The HIAB truck, unlike conventional cranes, is a single unit that can be easily transferred. This versatile and straightforward machine has a loader crane that can spin 180 degrees and is 16.5 metres long, allowing it to reach isolated sites. It also operates better on soft surfaces than a mobile crane. HIAB cranes are more manoeuvrable than conventional cranes, making them ideal for urban construction sites.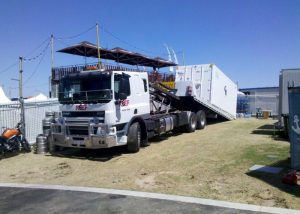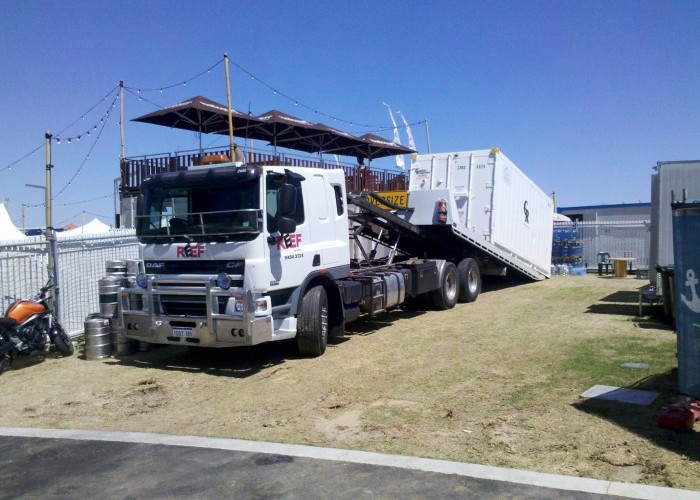 Bottom line
HIAB truck-mounted cranes can provide a cost-effective solution for virtually all modern deliveries, whether in the construction or road-building industries, on hydroelectric or telecommunications lines, handling heavy machinery, or recycling rubbish. HIAB truck-mounted cranes are equipped with mechanisms that ensure all objects are loaded and secured correctly. The load restraints and other safety features provide peace of mind. It is unlikely that the machine or equipment will fall and cause damage that could risk your investment. This is why you should always rent or hire HIAB trucks for your next construction project to ensure everything runs smoothly!
If you are in need of high quality HIAB trucks in Bunbury, then Reef Group is the team you have been looking for! Our experienced team, combined with 40 years of industry knowledge, can assist with various transport requirements, including oversize, metropolitan, country, rail and interstate deliveries. We realise that as your business flourishes, your transport needs will grow, and Reef Group will need to increase the carrying capacity accordingly. We will monitor the conditions for your company so that no lag in the provision of service against the volume of work occurs, both by acquiring a new plant and using trusted sub-contractors as/and if required.