When it comes to the logistics of moving goods around Australia, there are many factors to consider. Before contacting any companies, decide what the most important aspects of any agreement are for you and your business. Is speed of the essence, or is it more important to keep costs down, even if it takes longer? 
Leave nothing to chance and no stone unturned. If you feel that the company you are considering is giving you the runaround or not being entirely genuine then be prepared to walk away. 
Do your homework beforehand so you can answer any questions the representative might have and ask a few pertinent ones of your own:
What are your shipping requirements and maximum capacity?
A nationwide shortage of drivers means that any company's ability to meet its stated capacities is an issue you must address. Keep your expected volumes and load sizes to hand and ask your carrier if they can handle them at the frequency you have in mind.
Do they have limits on what they are able to carry in terms of amounts or contents? 

Any packing or loading requirements you need to be made aware of? 

Are there differences in requirements for each state the loads will encounter?

Hidden costs or unpleasant surprises you should be made aware of?
Have your required timeframe and a map to hand to reference exact dates and locations.
How do you communicate with your clients?
Communication is paramount, not just in ensuring the goods reach their destination expediently and in one piece, but also in terms of your peace of mind. You need to know that you can get in touch with your transportation representatives at any time and, ideally, that they offer real-time tracking for your shipments.
What aspects of your operation do you use 3rd parties to handle?
It is not reasonable to expect all transport logistics companies to be in full ownership of every phase of their operation. However, it is important to know which elements they have direct control over and can guarantee in advance. If they are using a 3rd party trucking company, ask about their relationship with that company. 
How reliable are they when it comes to providing the promised capacity? 

Are they fully insured with strong safety records?
What contingencies do you have in place to mitigate risks and handle unexpected events?
Anything from changes in schedule to re-routes caused by roadworks needs to be accounted for and handled efficiently and professionally. The smooth, seamless movement of your freight is key and you need to know what steps they have in place to ensure that at all times. 
What is your safety record like?
Even when safety is the top priority of any business, accidents can still happen. If there seems to be a disproportionate number of them, you need to ask why.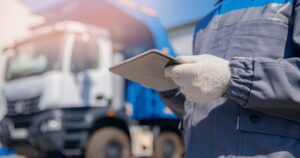 What technologies do you employ?
A company's logistical software is crucial in managing your transportation effectively and they should be able to walk you through it in detail. Ask about the exact software they use and research it yourself if it is unfamiliar. 
At Reef Group, we constantly strive to stay at the forefront of freight technology. Apart from organisational software and technologies such as our CLOS container loading/offloading system, we employ the most up-to-date live-tracking systems. Clients must be able to track their shipments at all times and receive electronic updates and documentation as they move.
How much will it cost?
The price of transportation is crucial, but at what cost? If the cost seems unfeasibly low then you have to ask yourself how they are able to offer their services so cheaply. It is expensive and complicated to execute transportation, and corners are surely being cut if the price is suspiciously low. 
Shop around and get several quotations but pay close attention to the details and beware of those that seem too good to be true. They probably are. 
Things you can research about companies for yourself 
How long have they been in business?

What's their permit/licence status?
Contact us
Any transport company worth its salt will guide you through all of the things you need to consider before partnering with you. It is in neither of your interests for there to be costly mistakes and misunderstandings along the way. 
Here at Reef Group, we have made it our business to provide the most reliable transport and freight services in Australia for over 15 years. Since starting out with a single truck, our mission has been to make safety and professionalism paramount throughout our company. Now that we operate Australia-wide, nothing has changed and we take our responsibilities very seriously.
If you have any questions, please contact us today and an experienced member of our team will assist you with all your requirements and offer an obligation/cost-free quotation on request.