Here at Reef Group, we have made it our mission to always be up to date with the newest, most important innovations in freight technology. During the constant process of learning and evolving, we have come to understand the nature of logistics from every conceivable angle and feel confident in predicting how the role of technology in the transport industry will change and adapt moving forwards. 
There are several areas where technology is crucial to the smooth, safe operation of any transportation and logistics business. Many of them are computer-based and rely on incredible leaps forward in organisational software, data analytics and live decision-making capabilities. Here is our view of what technologies we expect to see in the future, some of which are being utilised as we speak.
The future of transportation technology: trends and predictions 
Data Analytics
The ability to draw actionable insights from huge volumes of data almost instantaneously is, perhaps, the most influential of any when it comes to the role of technology in the transport industry. It is certainly the one that most of the other technologies cannot hope to function without. This flow of data is the lifeblood of the supply chain and there is almost no facet of modern transportation or logistics that is not bound to and totally reliant upon this capability. 
The rapid analysis of data is king in almost every area. From market research and analysing consumer requirements/trends to helping delivery vehicles avoid routes with the heaviest traffic and meeting deadlines and quotas. Its findings and predictions are felt at every step of the process and the whole system would very quickly grind to a shuddering halt if the complex software were to cease running.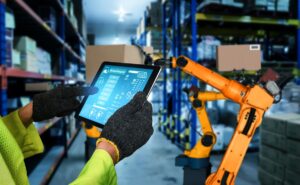 Artificial Intelligence
Artificial intelligence or 'A.I.' has proven itself a key element in the transportation industry for a while but there is no other area that has advanced further or faster in that time. Machines that learn are no longer a thing of the future but are being employed in many industries as we speak and logistics is no different. 
Smart machines are now capable of executing functions that would typically have required humans in the past. A.I. improves the operation and functionality of several areas within the industry, specifically those that require actions based on the rapid absorption and analysis of a constant stream of data. From maximising the efficiency of loading practices to optimising transport routes, artificial intelligence is present everywhere in the logistics realm. Safety standards and productivity have risen as a result, as have customer service levels and attention to every conceivable detail. It is no exaggeration to say that the transportation industry would not look the way it does today without the introduction of A.I. The effects of intelligent supply-chain management tools are particularly noticeable in these areas: 
Inventory management

Shipping movements and transactions

Live monitoring of, and amendments to delivery routes

Environmental monitoring for storage and transportation (temperature, humidity, and pressure)
Autonomous vehicles, robotics, and tools
Self-driving, or 'autonomous' vehicles are concepts from science-fiction brought to life in the transportation industry. When combined with the powerful artificial intelligence capabilities of modern software, and the ability of machines to 'learn', the industry has changed beyond all recognition. Particularly in warehouse situations, robotics and self-driving tools and vehicles have become the norm. They drastically reduce the number of accidents, increase overall efficiency and allow for much higher volumes of orders and traffic, whilst still allowing delivery times and items to be pinpointed with incredible accuracy.
When combined with the optimised route planning and operational precision capabilities of complex software, it creates a very powerful network of tools. Operating as a 'hive-mind' in total harmony and with maximum efficiency. 
The 'internet of things'
The internet of things is a phrase used to refer to the system whereby any number of objects can have sensors embedded in or affixed to them and then become part of a colossal network. They can be tracked and monitored from any device that has the requisite software and this is how warehouses track their vehicles, orders, and other tools and devices. 
The technology is incredibly useful for allowing human minds to visualise such vast amounts of objects and information and interact with them accordingly. It is not dissimilar to the way that air-traffic controllers are able to view the location of all the planes they are charged with monitoring and assisting. It is an incredibly important, versatile tool and one that has almost limitless applications in the transportation and logistics industries. In fact, it is one of the most tangible ways that we can observe how technology is improving transportation logistics. 
Systems for shipment tracking
In the past, customers would have booked their shipments and been given an estimated delivery date. From that point onwards, they were left wondering what the status of their shipment was without any easy way to find out and monitor the situation. Things could not be more different now and clients can track their shipments to within a few metres at any time they wish. It allows businesses that are waiting on shipments to deal with their own logistics in a much more seamless way, and the benefits pass all the way down the chain to the consumer.
Digital technologies addressing environmental concerns
The increased introduction and use of digital technologies promise to create lasting change within an industry that is, by its very nature, responsible for high emissions and other negative environmental effects. 
The introduction of highly efficient, autonomous vehicles and tools is already having an impact, however, the industry is also growing to meet ever-higher demands. As supply chains continue to grow in complexity and scope, AI-enhanced tools and vehicles will play a crucial role in reducing unnecessary travel and other inefficiencies wherever possible.
Effective marketing strategies and enhanced customer service
The role of technology in the transport industry has branches that reach far and wide. From superior product development and supply-chain efficiency to the increased accuracy of marketing studies and research. Ultimately, customer satisfaction is the end goal and anything that can drive up that satisfaction is key to success. 
These are among the things that clients value most in this industry and technology could not be more useful in that regard.
The end result
All of these factors and technologies have knock-on effects in many areas and all affect each other in some way. Not least of the outcomes is the reduction of costs for the industry as a whole and, therefore for the customer. The focus throughout the industry is now very much on how technology is improving transportation logistics, and how it can continue to do so into the future.
Contact us
If you require the services and guidance of a transport company in Perth that is deeply in touch with all of these technological advancements then look no further. At Reef Group, we have the experience and knowledge to handle your transportation and logistical requirements no matter how large or small. 
Please contact us today with any questions or comments and a member of our professional team will be only too happy to assist you and provide you with an obligation/cost-free quotation.