The last couple of years have been a rather turbulent time for the global logistics industry, with supply chain disruptions leading to rising costs and a host of other challenges for industry participants to overcome. The Australian logistics industry has been no exception and there appear to be even more challenges on the horizon. But what exactly are these challenges and what can your organisation do to meet them in 2023? As a leading transport company in Perth, we have an inside view of these challenges, which we would like to share with you.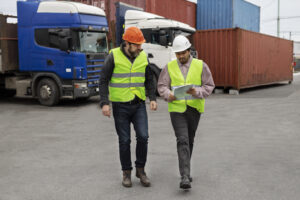 What challenges does the logistics industry face in 2023?
As you know, the logistics industry plays a crucial role in connecting businesses with customers by managing the movement of goods from one location to another. As we enter 2023, the industry is facing several major challenges that threaten to disrupt this seamless flow of goods and increase costs for all logistics and transport industry businesses, both in Australia and across the globe. In this article, we are going to discuss some of the biggest challenges that the industry faces in 2023.
Supply chain disruptions

–

One of the biggest challenges that the logistics industry faces in 2023 is supply chain disruptions. The COVID-19 pandemic already caused significant disruptions in the supply chain over the last few years, which led to shortages of critical goods and higher prices as a result of these shortages. In addition to the residual effects of the pandemic, the ongoing trade tensions between major economies such as the United States and China, the increasing frequency of natural disasters such as floods and hurricanes and the war in Ukraine are now putting an enormous strain on global supply chains. These disruptions have forced logistics companies to adopt new strategies, such as increasing the resilience of their supply chains by diversifying their suppliers and building redundancy into their national and international logistics networks.
Rising fuel costs

– Another major challenge facing the logistics industry in 2023 is rising fuel costs. The price of oil has been increasing steadily over the past few years and this trend is expected to continue in 2023 and beyond. This increase in fuel costs will have a direct impact on the logistics industry as transportation companies are among the largest consumers of fuel. To mitigate the impact of rising costs, logistics companies will need to explore alternative modes of transportation such as electric and hybrid vehicles. They will also need to optimise their routes and use real-time traffic data to reduce fuel consumption and increase overall efficiency across their networks.
Rising Storage Costs

– Storage costs are continuing to rise in 2023, which will put an increasing strain on logistics companies, especially those that are somewhat underfunded. Organisations that wish to remain competitive will need to look for more economical storage solutions and make other economies wherever practical. Even after taking these measures, it will probably be necessary to absorb some of the increases in storage costs rather than passing them on to customers.
Labour shortages

– The logistics industry is also facing a significant shortage of skilled labour. This shortage is due to several factors, including an ageing workforce, a lack of training opportunities and changing job preferences among younger workers. The shortage of labour is affecting the industry's ability to handle increased demand, which is expected to grow as e-commerce continues to expand. To address this challenge, logistics companies are investing in training programs to attract and retain skilled workers as well as using automation to reduce the need for labour-intensive tasks. This particular problem will be alleviated to a certain extent in the second half of 2023, as consumer demand is expected to fall, but it is an issue that will need to be addressed sooner rather than later by logistics organisations that wish to remain competitive in the coming years.
Growing Environmental Considerations

– With more and more consumers insisting that the companies they patronise follow environmentally friendly business practices, logistics organisations need to make a much bigger effort to find more sustainable ways of delivering the services they provide. Merely promising to do so will not be enough as we all have a responsibility to do whatever we can to minimise the impact that our activities have on the natural world. One way in which companies are already beginning to address the environmental challenges is by introducing more parcel collection points into their last-mile distribution networks.

Cyber security threats

– As the logistics industry becomes increasingly reliant on technology and data, cyber security threats have become a major concern. Cyber attacks can disrupt operations, compromise sensitive data and lead to significant financial losses. To mitigate the risk of cyber attacks, logistics companies are investing in cyber security measures such as encryption, firewalls and employee training. They are also working with technology partners to develop advanced security solutions that can detect and prevent cyber threats.
In conclusion, the logistics industry faces several important challenges in 2023, including supply chain disruptions, rising fuel costs, rising storage costs, environmental pressures, skilled labour shortages and cyber security threats. To address these challenges, logistics companies must adopt new strategies and technologies that can improve their resilience, efficiency and security. Only by doing so will they be able to ensure that they continue to provide reliable and cost-effective logistics services to businesses and consumers in Australia and around the world. Businesses that fail to take the initiative and meet these challenges head-on could find themselves navigating even more turbulent waters in the future and facing the very real possibility of closure or a major restructuring at a minimum.
Companies such as ourselves, who started to address these issues a considerable time ago, are now in a position to offer customers a higher standard of services and more competitive rates than many other logistics industry service providers in Australia. If you would like to take advantage of our freight transport services in Perth, WA or further afield, please feel free to get in touch with us by phone or email.