When people see massive-scale equipment on the road, they tend to ask themselves, "How do you transport machinery?".  Heavy machinery is a crucial component of numerous industries. Without it, the growth of particular industries and services would not be what it is today. However, the transportation of heavy machinery differs significantly from that of general or more compact machinery. Moving heavy machinery legally and securely is a challenging task that necessitates preparation, expertise, and the right tools. Transportation of large pieces of equipment can be difficult, but there are options and alternatives available to transport your machinery from one location to another safely and efficiently.
In this article, we will be going over the process of transporting heavy machinery and discussing the importance of making the right choices when it comes to moving industrial equipment.
How to transport heavy machinery?
From bulldozers and dumpers to tower cranes, excavators, and tractors, determining how to transport heavy machinery can be difficult. A specialised piece of equipment is frequently required for only a few days or weeks to complete a portion of a project. When not in use, the machine is typically kept at a storage facility or in a secure, weatherproof facility. A heavy machine must be moved to the project site when necessary and returned when it is no longer required. Here, we have compiled a list of the most important things to consider when planning the transportation of heavy equipment: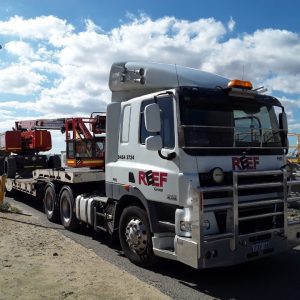 Keep Your Transport Team Well Informed
In transporting, your team needs to be actively involved in handling the equipment being relocated. You may invest in the most advanced technologies, but their effectiveness depends on how your employees handle every situation. Therefore, you must educate them on all aspects of safety.
Your drivers must possess professional driving abilities; defensive driving is an asset. Your drivers are unlike any others on the road. They are handling expensive and heavy equipment, and nobody wants any of their employees and equipment to be in danger. An unwanted accident could result in injuries and equipment damage,  which can lead to financial losses.
In addition to ensuring they have the necessary driving skills, please provide them with training in first aid and heavy equipment handling. If necessary, they should also learn how to operate this heavy machinery. Also, please provide them with the proper equipment and training on how to use it. The most standard personal protective equipment consists of a helmet, a harness, and gloves.
Choose the Appropriate Mode of Transportation
Transporting heavy equipment requires special equipment. Before discussing the available tools, it is essential to note that you can transport your equipment by sea or road. Consider the size and weight-bearing capacity of the mode of transportation you choose. Suppose your equipment stretches back lengthwise. It would be advantageous to acquire a flatbed truck to accommodate the entire length. 
The width should be treated similarly. None of your equipment should be exposed to the road. It can endanger the safety of other drivers. If it is possible to detach some compartments, do so to minimise the equipment's size during transport. Also, ensure that the method you employ can accommodate the equipment's weight. 
The dangerous presence of heavy equipment on a ship can cause the vessel to sink or capsize. On the other hand, an overloaded truck on the road can cause accidents by tipping over. You may need to hire professional transport services if you are still looking for a suitable vehicle to transport your heavy equipment.
Another means of transportation available is container shipping. Container shipping is the most prevalent method of transport and makes loading and unloading machinery and equipment simple. Six-meter or twelve-meter containers are utilised for this process as the standard size. 
Although this is the most common method, you may encounter difficulties if your heavy machinery exceeds these dimensions. Due to the limited size of containers, you may be required to disassemble your cargo in order for it to fit into the containers if you choose container shipping as your mode of transport.
Heavy Equipment Must Be Locked Down Correctly
After deciding on a mode of transportation, the next step is loading your chosen mode of transit with the heavy machinery. It all depends on the strategy you employ. Get started by setting up all the tools you will need. Take apart everything that could possibly break apart and put it away. They might get lost or worse, they might fall on passing cars, injuring their drivers and passengers. Shut off the power to the battery and lock all the doors.
A piece of tape or some wrapping paper will do the trick to keep the doors shut. You want the vehicle to stay stable because the door can be opened unexpectedly while it is in transit. When you're ready, load up the chosen mode of transport with the equipment. Put it in the middle if you can to avoid any unbalance. Fasten the machinery down in every direction you can think of. Ensure the bolts are securely tightened so your machinery doesn't jiggle around.
Heavy machinery that isn't properly secured can be thrown forward during sudden stops, where they could potentially damage the vehicle they're being transported in. A variety of mishaps are possible as a result of the impact. Let other drivers know what you're transporting so they can give you space on the road.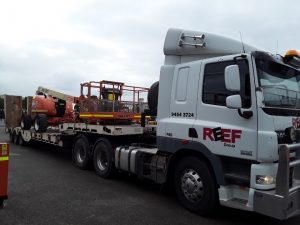 The Loading and Unloading Process
Assigning each team member a specific duty ensures that everyone understands their responsibilities and prevents them from entering the loading area by accident. Ensure that the loading area, ramp, and trailer are clean and debris-free. Then, slowly and steadily move the equipment onto the deck; most of the equipment's weight should be toward the front of the trailer to prevent fishtailing. Secure the equipment in accordance with all state laws and regulations.
The same rules apply to unloading; double-check that the site is free of debris and as clean as possible. Verify that the equipment is still secured and in the correct position, and then begin unloading. Slowly remove the equipment from the deck and prioritise the team's safety. After the equipment has been unloaded, conduct a final inspection of the area and vehicles and complete any necessary paperwork. The loading and unloading of heavy equipment is a delicate process. A minor inconvenience could result in fatal injuries. Safety is a concern here for both your employees and your equipment.
You must purchase the proper equipment for the job. You can work with forklifts or skates; the possibilities are limitless. Nevertheless, forklifts are preferred for moving equipment over short distances. The forklift can be used to lift heavy equipment and place it on skates. Since skates have wheels, you will not have to worry about lifting during transit. Ensure that only those with experience with the equipment are operating them during this process. A fall during hoisting may cause equipment damage and worker injury, which nobody ever wants to happen.
Bottom Line
Construction, farming, and many other industrial facilities rely heavily on heavy machinery for daily operations. Moving heavy construction machinery can be difficult due to the equipment's weight and size. To avoid any incident, one must be extremely cautious and consider all logistics and safety concerns. If you do not know how to move heavy equipment, you should seek the assistance of professional shipping and freight companies.
If you are in search of a trustworthy transport company in Perth, then Reef Group is the team you've been looking for! Our skilled team and forty years of industry experience can assist with various transport needs, including oversized, metropolitan, rural, rail, and interstate shipments. We recognise that as your business thrives, your transport requirements will expand, necessitating an increase in Reef Group's carrying capacity. We will monitor the essentials for your firm so that there is no lag in service provision according to the volume of work, both through acquiring new equipment and using reliable subcontractors as needed.