With so many retailers now offering same or next day delivery, it seems customers have become addicted to the ease of online shopping. Simply make a few clicks, and the product quickly arrives at your doorstep. However, most consumers don't think about the huge amount that goes on in the background, from technology to logistics. That's why every transport company has had to make big changes in the past few years to ensure they stay ahead of the competition. From the idea of click and collect, where consumers can pick up parcels from a local shop, to Amazon patenting the idea of underwater warehouses, the logistics industry is coming up with endless ideas to keep up with the demand. But how much more pressure can the system take?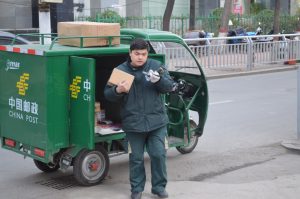 Low paid workers
If you look at the e-commerce industry in places such as China, you'll notice that it relies on low paid workers, often taking parcels to their final destination via tricycles. China has about 2.5 million couriers, however, many of them are complaining about the extra load placed on them. Expected to deliver a hundred parcels a day, sometimes more, this kind of model would be difficult to sustain. The current rise of parcels means that 4 million of these workers would be needed in China by 2020, and with labour costs on the rise, each delivery is becoming more expensive. This estimation has led to uncertainty in the industry. At a recent public offering for BEST, an Alibaba associated logistics firm, figures were disappointing due investors' anxiety around the cost of paying this army of workers. In many countries, there have been big debates about using self-employed workers and the 'gig economy' too, which means delivery firms might not get away with low wages for much longer.
Risk
In markets such as the USA, it's the local postal service who are taking on the e-commerce risk. At the moment, the United States Postal Service is under-pricing parcel deliveries to stay competitive with Amazon. This has led to them defaulting on $34 billion USD in worker benefits. One of the main issues is that mail volumes are lower, and customers are more thinly spread. We are now used to ordering small volumes of products online and still getting free delivery. It's much less efficient to deliver to each customer than to a shop, which means it's much costlier. The USPS shoulders much of the costly last mile of deliveries, and this is often the part of the distribution chain where it's most difficult to cut costs.
Crossing borders
Adding to the issue is the fact that 15% of online orders cross international borders. More people than ever are shopping on sites such as Alibaba, where they enjoy a huge selection of products, but the low prices mean that profit margins are thin. Therefore, sellers don't want to spend a lot on delivery, and buyers will often reject parcels rather than pay customs fees. Sites such as Alibaba also see a lot of small volume orders of low-cost items, which means a huge volume of parcels being sent across the globe.

Delivery companies who specialise in cross-border deliveries could therefore see a business boom. Bongo, a firm who protect customers from fraud and help with duties, were purchased by FedEx in 2014. Alibaba-owned company Cainiao is trying to create free-trade zones, which would make customs and warehousing much easier for small businesses. At their bonded warehouses, manufacturers store their goods within China, making it easy for them to be shipped to customers all over the globe.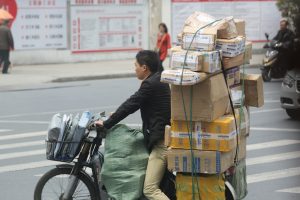 Automation
Automation is already a big part of logistics, for example, robots working in Amazon's warehouses. However, the picking and packing stage is still mostly done by hand, and companies such as Amazon are always encouraging manufacturers to make an automated process for this. As labour becomes more expensive, we may well see more automation coming into play.
One area where automation could solve many issues is with delivery, and Amazon is ahead of the curve with its drone delivery service. However, it's bigger innovations such as driverless delivery trucks that could bring down cost. Last-mile delivery is often the costliest, so it's easy to see why big retailers are so keen to cut this cost. Cainiao in China are currently using drones in certain provinces. Flying to set delivery points, a worker picks them up for the final stage of the delivery. That means that human intervention is still needed, but it cuts out part of the process. Drone deliveries to individuals could be an option, but as it stands they are expensive, can be difficult, and can only handle parcels of a certain size and weight. However, they are improving over time, and newer drones can now carry up to a tonne of cargo.
Large firms
Because these innovations take a lot of investment and risk, it's mainly larger firms who are likely to win the logistics race. Companies such as Amazon have a lot of bargaining power with firms such as UPS and FedEx, and are also making deals with smaller, regional delivery firms that could give them even more power. The challenge for organisations such as the postal service in America is competing with the giants. If they raised their prices, then Amazon would benefit, as it'd mean sellers would be more likely to use Amazon's network of delivery firms.
With more and more customers demanding fast, free delivery, there will be many challenges ahead for logistics firms. As always, the tech giants are ahead of the curve, and the innovations that they make now could make big differences to the way we ship items in future. From drones to robot pickers, it seems automation is on the horizon, but until the technology can catch up with humans, logistics firms will need to find ways to innovate and make their processes more streamlined.